We live in a time where the world is at our fingertips. Brands have access to their audience and consumers at a moment's notice and vice versa. This has led to a revolutionary way of advertising and targeting consumers for brands. More importantly, it is imperative to understand the consumer's behavior. Also, brand loyalty is at risk, with options at a consumer's fingertips it is vital to drive consumers to the right message on the correct platform that will lead the brand's desired call to action. I had an in-depth conversation with industry experts to see what their thoughts are.
Power Play
"Never before has this level of granularity in consumer data been available to advertisers. When that power is wielded thoughtfully, the campaigns, products and ideas advertisers promote can be served to the right audience, at the right time and in the right platforms. Consumers can be granted helpful shortcuts to fulfill their needs, and in equal measure brands can be granted increasingly sophisticated information to make their purchase funnels more effective. But when that power is misused, it can lead to a violation of trust between advertisers and consumers, in addition to an inundation of ad content that makes deciding between competing products even more difficult for consumers. What this ultimately means is that it is up to advertisers to leverage this revolution responsibly." Rafael Sangiovanni, Social Media Strategist
Does Personalization Matter
"The internet has become embedded in every aspect of our daily lives; from the way we interact with each other to how we search for information. Personalization has become prominent in digital marketing, offering improved user experience by providing information and targeted ads based on individual users' activities and interests. These days, most consumers will only engage with marketing messages that are personalized and tailored to their interests." Karina Shadeed, Digital Marketing and Social Media Manager
"Search engine marketing and search engine optimization have combined with behavioral advertising to create the most personalized set of advertising communications the world has ever seen. Because search engines can combine browsing and search behavior data of their users along with conversion data for various ads, marketers can now present potential customers with ads that are not only more effective in fulfilling search queries, but also are more convincing to convert searchers to customers. Although these ads aren't completely personalized, the increased use of artificial intelligence for content production will allow ads to be constructed in real time based on search queries and browsing behavior." Anthony Miyazaki Brand Strategist and Marketing Educator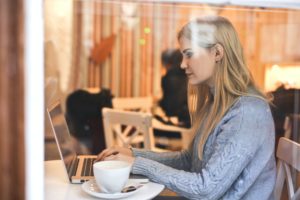 Utilizing the browsing history of a consumer can help a brand in personalizing future search results. Our industry experts agree that consumers prefer a more customized search result that feels as if it was created specifically for them. I know that many times it feels as though Big Brother is watching, but is he?
Benefits of "Big Brother" Watching
"The internet has paved the way for more sophisticated and personalized advertising, effectively increasing the quality of the leads entering the sales funnel. Where traditional advertising aimed to reach the many–with virtually no space for personalization–internet marketing has made it possible for marketers to reach that one person, at the right time, and with the right message. Just think of all the ads Google and Facebook serve you right after you search for a specific product or visit a company's webpage." Belinda Caballero Fernández, Marketing Strategist

"Companies today are capturing more information than most of us are even aware which for many people brings up privacy concerns and other thoughts of malice. While these concerns have some merit, this paranoia prevents us from realizing the benefits that can come from companies using this data in a positive way. In a world where consumer data is prevalent and available to businesses, the annoyance of mass advertisements and irrelevant spam messages disappear forever and you never again miss a sale on your favorite brand of shoes. Consumer data used responsibly really means a better shopping experience void of unnecessary clutter and marketing efforts become more effective as conversion rates skyrocket simply by targeting the right consumers." Gregory G. Maloney, Ph.D., Director, MS in Logistics and Supply Chain Management
It is clear to see that personalization can have key benefits toy consumers search and journey to a brand. "Big Brother" Although at times seems invasive, when used properly these key features can truly benefit the consumer. Providing them with the most comprehensive brand experience as well as a personalized journey to ensure that they are seeing the information that they want to see with suggestions that interest them.
Data Matters

"Data fuels everything in today's marketing landscape. From granular targeting and tracking, to definitive quantifiable results, social media, and digital advertising as a whole, have fundamentally changed the relationship between brands and consumers. When done correctly, the right ads are served to right people and both parties win – brands aren't wasting ad dollars on the wrong audience, and consumers are being served content that's relevant and actionable." Andrew Cassidy, CEO Cassidy Consulting
There were two key takeaways that our industry experts across the board mentioned. Firstly personalized advertising provides the best experience for both the consumer and the brand. Secondly, timing is key when it comes to reaching and developing a long-term relationship with your consumer.
Make it Matter
When the proper messaging is received by the consumer they are more likely to act on the ad in a way that the brand would like. This requires a lot of research from the brand and ensuring that their ad is on the correct platforms for the proper audience. Unlike the days of mass marketing or generic advertising to fit the masses. Digital marketing truly allows the brand to develop several messages targeted for each consumer resulting in a customized customer journey.
In conclusion, although at times it can seem online advertising is invasive. It has truly opened the doors for consumers to see new brands as well as interact with some of their favorite brands. Additionally, it has provided a personalized touch to advertise them that we have not seen before.